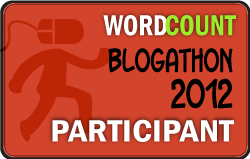 I've decided to participate in the 2012 WordCount Blogathon for the month of May.  Because I want to build my blog-post writing muscles. Because I want to strengthen my confidence in my writing voice.  Because I have a few topics I want to experiment with. And because I guess I don't have enough to do, what with the fledgling writing business, raiding a toddler and running a household.  
So you can expect to see a lot more posts around here over the next 31 days.  I hope you enjoy them, and I'd love your feedback on what you like and want to see more of.  
If you are a new reader, welcome! I'm so glad to have you here!